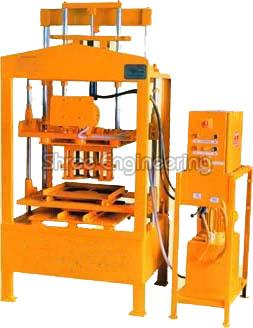 A kerb stone is defined in the dictionary as, 'a long, narrow stone or concrete block, laid end to end with others to form a kerb.' This may seem insignificant, but kerbs do a lot for you in terms of keeping you safe. Kerbs also have an important job of ensuring that rainwater makes its way to a drain where it can be safely moved away from public areas. There would be many more puddles if it wasn't for Kerbs.

Putting a kerb edge can introduce an entire plethora of new styles to your garden and landscape. It can be the difference between a dull and dreary rose bush, and compliment from a friend on how good your garden is looking.

Kerb Stone Block Making Machine
These useful blocks are made using kerb stone block making the machine available at the leading suppliers in Tamil Nadu.
The production of concrete blocks with a huge variety of shapes, sizes, textures, and colors benefits concrete block manufacturers, architects, engineers, and builders significantly. It allows them to combine the blocks to achieve spectacular aesthetic effects with significantly lower costs than other building products.
High Strength, low cement consumption, dimensional accuracy, and uniform density are the salient features of high-quality machine kerb stone block making machine. It is easy to manage also. You can buy it automatic as well as semi-automatic.
Due to the unique vertical mold vibration technology, kerb blocks making Machines are superior to usual brick making machines.

Why invest in such machines?
Investing in a brick and kerb stone block making machine is a smart decision for any business that is looking to get off the ground quickly by producing high-quality products with a low-cost. It saves time as well as costs in terms of delivering high quality at affordable price.

Benefits of kerb stones blocks
Kerbstone helps in preventing any kind of spreading from the carriageway. Other than roads kerbstone had shown its excellence in creating lawn boundaries in houses and parks, edges along pavements, squares, car parks resistant to all weather conditions.
Kerb stones play an important role where rain-waterfalls. It ensures that the rainwater makes its way to drain.
These also make them resistant to mechanical loads and also against the chemicals used in road cleaning. It helps in retaining the structural integrity of the road.

Where to buy high-quality machines?
There are various kerb stone block making machine suppliers in Tamil Nadu. They fulfill the demands of customers by supplying extensive a range of this machine in bulk. This machine is available in various production capacities.

Their experienced personnel manufacture and test every machine on standard quality norms. They offer automatic as well as the semi-automatic machine at a market-leading price. Furthermore, they deliver on time throughout the nation and in any quantity you want. Also, they supply payment options that are flexible and secure. You can order anytime online as well as on-call and as per your requirements.